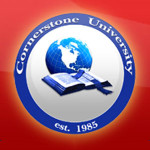 Website
1605 Broad Street
Lake Charles, LA 70601
Degrees Awarded:
B.A. in Christian Counseling
M.A. in Clinical Christian Counseling
Ph.D. in Clinical Christian Counseling
The main campus for this school is located in Lake Charles, Louisiana, however, they have several campuses throughout the United States.
Cornerstone University is accredited by the Accrediting Commission International and is a Comprehensive Member with honor. This is the highest possible status available through the A.C.I.
Cornerstone University provides classroom instruction and utilizes NCCA's Counseling program for any and all distance education students who are majoring in counseling.