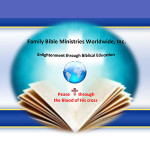 Website
5300 Edmondson Avenue
Baltimore, Maryland 21229
Degrees Awarded:
M.A. in Clinical Christian Counseling
Ph.D. in Clinical Christian Counseling
The main campus for this school is located in Baltimore, Maryland, however, FBICS has several extension schools throughout the United States, as well as internationally.
The Maryland Higher Education Commission certifies that Family Bible Institute, College and Seminary (FBICS) satisfies all of the criteria for the status of a religious degree-granting institution as set forth in Section I-202 of the Education Article.
FBICS is an Accredited Institution with the American Accrediting Association of Theological Institutions, Inc. It is also a Certified Higher Education Institution with the Evangelical Training Association (ETA). ETA is a nationally-recognized agency for the promotion of higher standards for Christian teachers and church educators.
The FBICS utilizes NCCA's counseling program for any and all students who are majoring in counseling.in