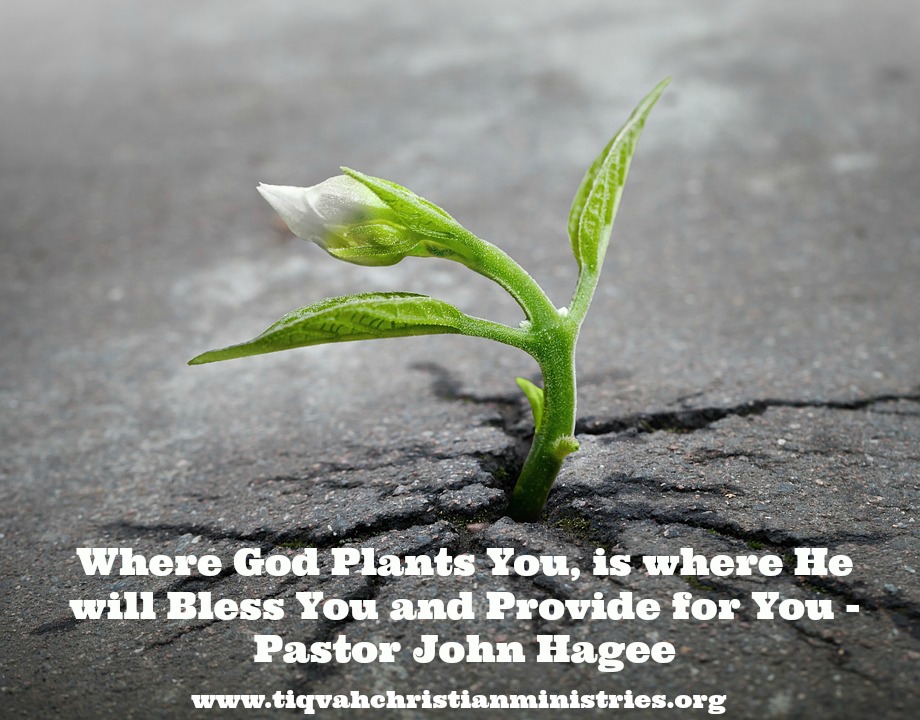 Pastor John Hagee reminds us, "Where God plants you, is where He will bless you and provide for you".
I have seen that in my life over and over again as many of you have.  Looking back over the past 50 years I can see where my journey has led me through times that felt like I would never recover, and times that I felt like I had all the strength in the world to do whatever task was in front of me.  But in both, God knew exactly where I was and blessed me with mercy, patience, and grace.  He provided me with unconditional love where I felt there was none to be had, strength to persevere in the toughest conditions, and hope to move forward knowing He had everything in His control.
Over the past few years, I have heard stories of individuals, young and old, who have found themselves lost in the cracks of life and unsure of how they were going to ever move forward and grow from their circumstances.  People are hurting. Pain discriminates against no one.  It falls upon each of us at some point in our lives.
Just in the past week, people have shared these cracks of life with me.  These are just surface cracks some that will allow them to move forward fairly quickly, yet others cracks are so deep that they are caverns in their soul that shed very little light into finding any way out, ever.
These cracks have names. You know them well, you live with them day in and day out.
Abuse – Addictions – Adultery – Alcohol – Anger – Anxiety – Bitterness- Bullying – Cancer – Chronic Pain -Co-dependency – Depression – Death – Divorce – Drugs – Eating Disorders – Emotions – Family – Grief – Guilt- Loss – Hallucinations – Homosexuality – Illness – Marriage – Loss – Low Self-Esteem – Non-Forgiveness – Poor Self-Image -Pornography – Rejection – Resentment – Self-Injury – Stress – Suicide Attempt or Completion – Worthlessness
Can I tell you?  Where God plants you, is where He will bless you and provide for you.  You answer, how can God bless me and provide for me in any of these cracks of life?
Because, whatever you may believe or wherever you find yourself in life, it does not dismiss the fact that when you were conceived, God knew your name. He knew what was ahead of you and He knows what lies behind you.  Yes. Regardless of whether you know Him or not, He knows you as found in Scripture in Psalm 139: 13-16,  
"For you created my inmost being;
you knit me together in my mother's womb.
14 I praise you because I am fearfully and wonderfully made;
your works are wonderful,
I know that full well.
15 My frame was not hidden from you
when I was made in the secret place,
when I was woven together in the depths of the earth.
16 Your eyes saw my unformed body;
all the days ordained for me were written in your book
before one of them came to be."
Did He hope for you to hit the cracks and/or get stuck? No.
His plan for you is found in Scripture in Jeremiah 29:11,
"For I know the plans I have for you, declares the LORD, plans to prosper you and not to harm you, plans to give you hope and a future."
How do I know this is a plan that can work for you?  Because, Scripture says so in John 3:16,
"For God so loved the world that he gave his one and only Son, that whoever believes in him shall not perish but have eternal life"
Beloved, that's you.  That's me.  Life is full of pivotal moments.  Moments that find us standing at a crossroad in which only we can choose the direction we will take from that moment of impact.  Which way will you go from here?
Can I tell you?  Where God plants you, is where He will bless you and provide for you.
He has you at this pivotal moment.  You are in the cracks of life.  You have this choice to stay in the crack, or reach for a way out.  My prayer is that you will have the strength to stand in your cracks and face whatever is challenging you with this assurance, that God will bless you and provide for you.
Reach out and learn to face these battles, obstacles, and cracks in life with faith in God that He will see you through. Faith is the key that unlocks the power of God in our lives. It enables us to live by His promises and experience personally, His blessing in our lives.
      Philippians 4:7
"Then you will experience God's peace, which exceeds anything we can understand. His peace will guard your hearts and minds as you live in Christ Jesus."
Isaiah 41:10 
"So do not fear, for I am with you; do not be dismayed, for I am your God.  I will strengthen you and help you; I will uphold you with my righteous right hand."
Philippians 4:19 
 "And my God will meet all your needs according to the riches of his glory in Christ Jesus."